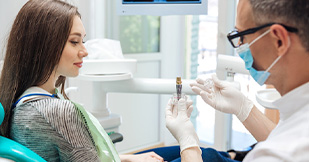 Dental implants are a wonderful choice for replacing missing teeth, and they are also probably one of the bigger financial investments you will make for your health. While they won't stain like your natural teeth for reasons listed below, you still need to perform excellent oral hygiene habitually to ensure that they stay strong and healthy. Keep reading to learn more about how to keep your new teeth looking and functioning great for years to come.
Why Dental Implants Don't Stain
When you get your dental implants, you will probably be happy to know that you can expect the crowns that are placed on top of the implant posts to look more or less the same for life. So, the answer to the question "do dental implants stain" is a resounding yes. That is because, unlike your natural teeth, which gradually yellow over time, dental crowns are made of ceramic – which is highly stain resistant. They can stain if the ceramic is compromised, but as long as you take excellent care of them, you can expect to flash a beautiful white smile for decades to come.
How to Care for Dental Implants
Even though dental implants do not typically stain, it is still important that you keep a few things in mind. If a replacement tooth gets cracked or otherwise damaged, it is easier for stains to develop. And, because dental implants can't be cleaned or whitened like natural teeth, getting rid of the stains could require replacing the crown completely.
Steps for taking care of dental implants include:
Avoid eating too many acidic foods, which can wear down the glaze used to protect dental implants.
Clean your teeth regularly as directed with a dentist-approved toothpaste.
Avoid chewing on hard objects (like pen lids or ice cubes) and do not bite your nails.
Never use your teeth to open packaging.
Visit your dentist regularly for a checkup and cleaning.
Don't Wait to Make This Excellent Investment
If you are already missing or are on the verge of losing some teeth, dental implants are the best method of rebuilding your smile. And, with just a few basic steps, you can expect them to stay beautifully white for the long haul. That's an investment you will not regret making!
Meet the Dentist
Dr. Jason Hong is an experienced dentist offering exceptional care for people in and around Clarendon Hills. Originally from Texas, Dr. Hong's philosophy is to treat his patients the way he would want to be treated. To learn more about dental implants, including whether or not you are a good candidate as well as how to take care of them, do not hesitate to contact Dr. Hong's office by phone at (630) 789-1555.