Dentures – Clarendon Hills, IL
A Tried-and-True Tooth Loss Solution
If you've ever suffered tooth loss, you know the condition lowers your quality of life. After all, it results in unsightly tooth gaps, makes everyday tasks harder, and can cause oral health issues. Still, you don't have to live with such complications – get dentures from Clarendon Hills! As provided by Dr. Hong and his team, these prosthetic teeth restore grins quickly and easily. To learn what they're all about, just keep reading or book a visit to our practice.
Who is a Good Candidate for Dentures?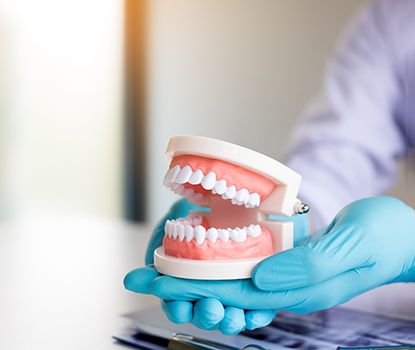 Naturally, ideal denture candidates are the ones who suffer from missing teeth. They're people who, due to lacking chompers, struggle to eat, speak, or even smile.
Of course, you can only confirm candidacy with a dental consultation. This visit lets Dr. Hong assess your health and see if dentures could work for you. Should he conclude that they would, he and our team will draft a custom treatment plan for your unique needs.
Alternatively, our office may recommend an alternative to denture treatment. That possibility is more likely if you don't lack all of the teeth along an arch.
Types of Dentures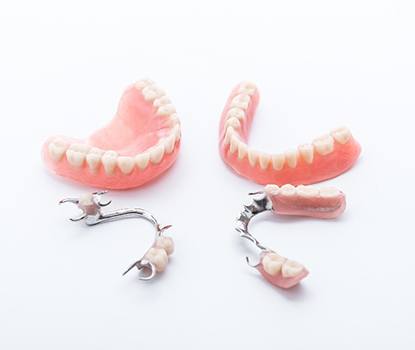 If Dr. Hong approves, the consultation visit will also decide the type of denture that best suits you. There's more than one kind, you see, and they have different qualifying factors. As such, the consult will ultimately suggest one of three possible dentures:
Partial Dentures
As you might expect, partial dentures only replace a few missing teeth. Consequently, they clasp onto surrounding chompers to keep themselves secure.
A partial denture consists of a gum-colored base and a set of artificial teeth. Thanks to its high-quality materials, it'll usually blend seamlessly with the rest of your smile.
Full Dentures
Full dentures, per their name, replace all the teeth along an arch. They thus don't use other pearly whites to steady themselves. Rather, they stay in place by relying on natural suction instead.
Ultimately, a full denture's base doesn't differ much from a partial denture's. The former also consists of acrylic, gum-colored resins. That said, this type of denture does fit snugly over the gums.
Implant Dentures
Compared to partial and full models, implant dentures are more stable. Patients, then, often choose them when they want a more permanent option.
Implant dentures uniquely feature dental implants — restorations that fuse with the jaw. Therefore, they have unique benefits, like preventing (and reversing) jawbone erosion. More notably, their fusion ensures they don't slip or fall from your mouth.
The Benefits of Dentures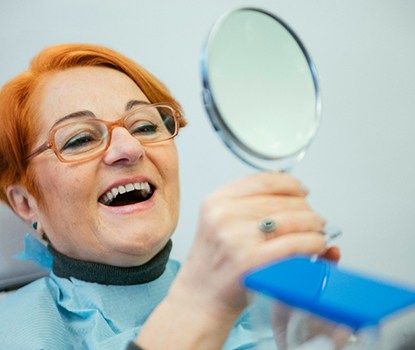 You can expect several perks if you get dentures in Clarendon Hills. The most common of these are:
Natural-looking Results – Given current dental technology, today's dentures are lifelike and natural-looking. You can, then, trust your results will look amazingly beautiful.
More Confidence – By filling the gaps between your teeth, dentures can give you a more confident attitude. You'll then feel more at ease with friends, family, and other loved ones.
Better Eating – Since dentures restore some of your bite force, they let you eat a more nutritious, wider-ranging diet.
A Moderate Lifespan – Dentures can actually last over a decade if given proper care.