Cosmetic Dentist – Clarendon Hills, IL
Get a Beautiful Smile with Cosmetic Dentistry
A beautiful smile conveys confidence and grace to the world around you. You deserve to look and feel your best. If you have unattractive teeth, your cosmetic dentist in Clarendon Hills, IL can help. We have the solutions you need to enhance your smile. In just a few visits, we can transform your image and renew your self-esteem using the latest innovations in cosmetic dentistry. We have a cosmetic denal treatment right for you to help you achieve sensational results, so don't wait another day to call!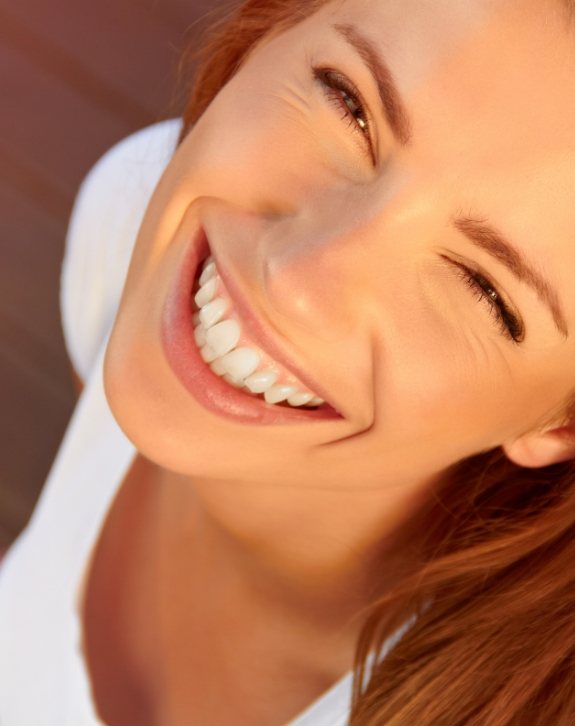 Why Choose Clarendon Hills Dental for Cosmetic Dentistry?
Convenient Take-Home & In-Office Teeth Whitening Options
In-House Dental Financing Available
Dentist with 17+ Years of Experience
Veneers
If you have several cosmetic issues, we can correct them using one treatment. Porcelain veneers are custom-made thin shells bonded to the front surfaces of your teeth to improve their color, size, shape, and proportion. This makes them very versatile to hide several flaws at once, like dark tooth discoloration, chips and cracks, gaps, and minor alignment concerns. The use of porcelain not only makes them look more natural but also thinner. As a result, less of your enamel is removed during the bonding process to make the treatment minimally invasive.
Metal-Free Dental Crowns
Dental crowns made from metal are certainly durable and effective at repairing damaged teeth, but they weren't exactly a seamless addition to your smile. As a more aesthetically pleasing alternative, we can restore your tooth with a dental crown made from porcelain and other metal-free materials. These crowns are often almost or just as strong as metal crowns, but they don't create a dark spot that mars your grin; instead, they're custom-made to blend right in.
Cosmetic Dental Bonding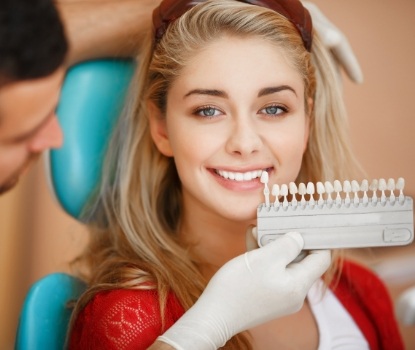 For one or two minor imperfections in a tooth, you might not need to permanently alter the tooth with a veneer or crown. As a more affordable, quicker, and less invasive solution, cosmetic dental bonding fixes your tooth's flaws with composite resin – the same substance used in tooth-colored fillings. After shading the resin to match your enamel, we simply sculpt it over the offending blemish and harden it into place. The procedure rarely takes more than a single hour-long appointment, and your results will look natural and can last for many years.
Teeth Whitening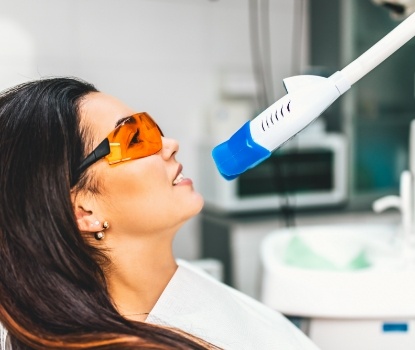 Over the years, your smile will lose its luster from age. The foods and drinks you consume, poor oral hygiene, and smoking can also cause your teeth to darken. If over-the-counter products did not give you the results you wanted, you can achieve noticeable change with a professional whitening treatment. We offer both in-office and at-home whitening systems to get your teeth as much as 8 to 10 shades whiter. The highly concentrated whitening agent is specially formulated to significantly improve stains while minimizing tooth sensitivity.
Smile Makeovers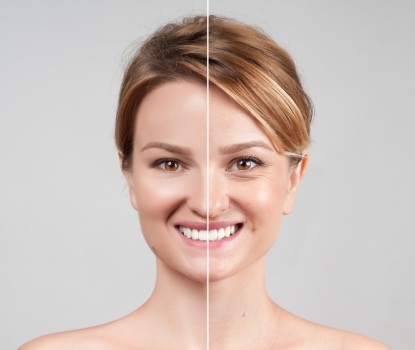 If years of poor oral hygiene habits, trauma, or genetics have given you an unattractive smile, you may need a smile makeover. After performing an initial consultation, we create a treatment plan catering to your individual needs. It may include one or more procedures to build a harmonious, beautiful smile. When designing your new smile, we consider several factors, such as the color, size, and shape of your teeth. Depending on the extent of your cosmetic flaws, it may take more than one appointment to reach the results you want.