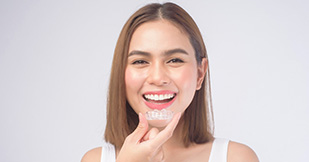 When Invisalign debuted their clear aligners 20+ years ago, the world of orthodontics was forever changed. Since then, it has become one of the most sought-after teeth-straightening treatments. After all, who doesn't want to achieve the smile of their dreams without the metal? While the cosmetic benefits of Invisalign are certainly noteworthy, they aren't the only reason you should consider their clear aligners. Here are a few additional perks!
Benefit #1: You Can Eat Whatever You Want
Popcorn, caramel apples, and raw vegetables are just a few foods that you can't eat with traditional braces. Fortunately, there are no dietary restrictions with Invisalign! Since the aligners can easily be removed, you're free to indulge in all of your favorite meals without worry. Of course, it's still a good idea to exercise caution with extremely hard/crunchy foods and to keep your intake of sugar to a minimum.
Benefit #2: Brushing and Flossing Is a Breeze
With metal brackets and wires, oral hygiene can be a bit of a hassle. Luckily, the same cannot be said about Invisalign. To clean your teeth, simply remove your trays and place them in their designated storage case. Then, complete your brushing and flossing routine as usual. Once you're done, give your aligners a quick brush with your toothbrush, and you'll be all set!
Benefit #3: Shorter Treatment Timelines
While traditional braces can take 24+ months to complete, the average treatment timeline with Invisalign is 12-18 months. In fact, there are some patients who only wear the aligners for six! Of course, the exact timeline will depend entirely on your dental needs, but there is a good chance it will be significantly shorter than metal braces.
Benefit #4: Fewer Check-in Appointments
Typically, adjustment appointments for braces are every four weeks. With Invisalign, you work through a number of trays from the comfort of your own home and only come in every six weeks or so. So, it's significantly easier on your schedule if you choose Invisalign. Just make sure to change trays on the right days and always wear your aligners for 22 hours a day. That's the best way to ensure you stay on-track with your treatment plan between visits!
Now you know a few more reasons why over 12 million patients have chosen Invisalign! To learn more about the benefits of this discreet teeth-straightening treatment, get in touch with your dentist.
About the Practice
Dr. Jason Hong graduated from the University of Pennsylvania before studying at the New York University College of Dentistry. Throughout his career, he's completed more than 300 hours of continuing education. If that wasn't impressive enough, he also has a Masters Certification in progressive orthodontics, and he is an Invisalign certified provider. If you want to learn more about the benefits of Invisalign or you'd like to schedule a consultation, get in touch with our team via our website or by phone at (630) 789-1555.