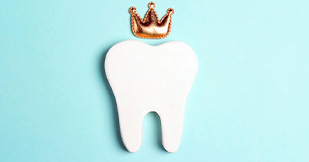 If you're looking to restore a few of your teeth, you're likely considering treatment from a dentist. They'll probably be able to fix you up and give you a new and improved smile! However, you might not know which of your two preferred procedures is better. In particular, what's the difference between dental crowns and fillings? Without that knowledge, it'd be unwise to make a total commitment. Luckily, your local dental practice can give you the needed information. Read on to learn how crowns and fillings differ in terms of purpose, procedure, and cost.
Dental Crowns
Basically, dental crowns are little 'caps' that fit over teeth. Given their design, they have the following qualities:
Purpose
Dental crowns encase pearly whites with porcelain or ceramic, boosting their strength. They restore damaged teeth that still have viable roots. Crowns can also preserve teeth that have significant decay. Since a crown can withstand high pressure without risking damage, a dentist often recommends one when a tooth's structure is compromised.
Procedure
To prepare your tooth for a crown, your dentist will file it down to the correct shape. They only perform this filing for severely damaged or decayed teeth. In most cases, the tooth in question will require a filling before crowning can take place.
Cost
Because they give patients a stronger, longer-lasting restoration, crowns are more expensive than most fillings. Their high-quality porcelain comes at a greater expense to the dentist.
Dental Fillings
Dental fillings are combinations of metals, plastics, and other materials used to repair or restore teeth. In line with their name, they "fill" an inner tooth part that your dentist removes.
Purpose
In contrast to crowns, fillings aren't great at strengthening teeth. Therefore, they're only used when strength isn't a concern. Instead, dentists use fillings to repair minor decay or damage — cavities, chips, cracks, and so on. Sealing the treated tooth's hollowed-out interior lets it give said tooth stability and protection from further decay.
Procedure
When dentists apply a filling, they first remove the relevant portion of the tooth's interior. From there, they clean the area and fill it with one or several materials. Once that's done, they'll finish by polishing the tooth.
Cost
To save time and money, fillings might be ideal since they cost less and only need one visit. However, remember that their lifespan is shorter than crowns. While the latter can last 25-30 years when well-maintained, even the best fillings only last 15 years.
As you can see, crowns and fillings have their strengths and weaknesses. Talk to your local dentist to learn more — then you can decide on the treatment best for you.
About the Author
Dr. Jason Hong is a dentist based in Clarendon Hills, IL, having earned his DDS from the New York University College of Dentistry. He is also a Fellow of the International Congress of Oral Implantologists and a certified Invisalign provider. His specialties are preventive, restorative, and cosmetic dentistry, as well as emergency dental treatments. Dr. Hong currently practices at his self-titled clinic and can be reached at his website or by phone at (630)-789-1555.