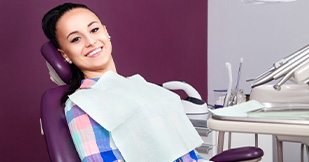 If you aren't entirely confident about the appearance of your smile, you will be pleased to know that there are variety of cosmetic solutions out there that can enhance the natural beauty of your pearly whites. However, you want to ensure that undergoing cosmetic dental treatment is in your best interest. Continue reading to learn more about the safety of cosmetic dentistry so you can determine whether or not it is a good option for you.
Is Cosmetic Dentistry Safe?
Cosmetic dentistry is primarily intended to improve the appearance of the teeth. As long as you are under the care of a trained professional, most cosmetic dental procedures are safe for the majority of patients, but not every treatment is right for everyone. That's why it is so important that your dentist examines your mouth beforehand and gives you an honest assessment of which procedures would be ideal for you.
Some cosmetic services can pose a risk if an underlying oral health issue is present. For instance, if a veneer is placed over a tooth with untreated decay, this can make the tooth more difficult to treat later on. However, your dentist will plan to address these types of problems before getting started with any type of cosmetic treatment.
Which Cosmetic Services Are Available?
Teeth Whitening
You don't usually get the results you're looking for with over-the-counter teeth whitening products. Professional teeth whitening is a safe option with much more effective results. You can choose between in-office or at-home whitening. Those who pick in-office whitening will see results in about an hour, while patients who opt for at-home whitening will be able to see their brighter smile in a couple of weeks.
Veneers
Veneers are thin shells of dental-grade porcelain that are bonded to the front surface of the teeth in order to cover up all sorts of different aesthetic flaws, including:
Gaps
Stains
Chips
Cracks
Undersized/misshapen teeth
Slightly crooked teeth
During your initial visit, a small portion of the protective enamel is removed in order to make room for the veneers. An impression is then taken and sent off to the dental lab where the permanent ones are crafted. In just a few weeks, they are permanently cemented to the teeth, and you leave the office with a beautiful smile makeover!
Invisalign
Instead of using metal brackets and wires, Invisalign uses a series of clear aligners to slowly shift misaligned teeth into their new, rightful locations. Patients wear each set of aligners in the series for approximately two weeks. This way, you can straighten your smile without settling for a mouthful of metal that takes away from your appearance.
Cosmetic dentistry is booming, and it's perfectly safe when you see a skilled dentist. You will show off your new an improved smile in no time!
About the Author
Dr. Jason Hong is an experienced dentist serving the Clarendon Hills community. He earned his dental doctorate from the New York University College of Dentistry and is committed to continuing education to keep his knowledge and skills sharp. Today, he is a Fellow of the International Congress of Oral Implantologists, has a Master's Certification in progressive orthodontics, and is an Invisalign certified provider. To learn more about cosmetic dentistry or to schedule an appointment, visit his website or call (630) 789-1555.