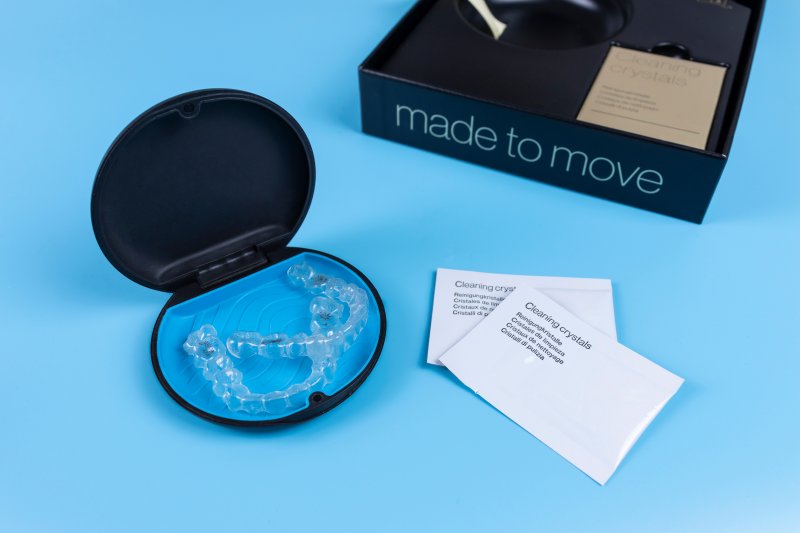 For patients looking to straighten their teeth, Invisalign can deliver results comparable to braces without the need for bulky wires and brackets. They're also clear enough that most people won't even be aware you're wearing them!
However, that's only the case if you keep them clean, and Invisalign cleaning crystals can help you do that. Here's what they are, and how you can use them effectively.
What are Invisalign Cleaning Crystals?
These crystals are one of the first things your dentist will give you along with your aligners. As important as brushing your aligners is, these crystals allow you to clean and disinfect your aligners easily. They're designed to dissolve in warm water, becoming a cleaning solution that you can soak your trays in.
When paired with other aspects of regular upkeep, these crystals can keep your aligners clear and fresh!
How to Use Invisalign Cleaning Crystals
If you're preparing to clean your aligners, the first thing to do is to take them out and rinse them under cool water. Make sure that the water you rinse them under isn't too hot or too cold, as in either case, you could potentially warp your aligners.
Once they're rinsed, immerse your trays in a small bowl of warm water, just enough to cover them completely. Then, pour in one full packet of cleaning crystals and gently swish it around for around 20 seconds to allow the crystals to dissolve.
You can then let your aligners stand in the water for around 15-30 minutes, however long you'd like. Keep in mind that you should try and wear your aligner for between 20-22 minutes a day, and that the longer you wear them the better they'll work.
Once they're done soaking, pull out your trays and rinse them again with warm (not hot!) water. Finally, take a little time to gently brush away any leftover plaque that has built up.
And that's it! It may sound like a fair amount to do at first, but once you make it a part of your regular routine, you'll be able to keep your aligners clean without even thinking that much about it.
About the Author
Dr. Jason Hong is a dentist who believes that the secret to great dental care is treating his patients how he would want to be treated if he were in their position. To do that, he combines his incredible dental expertise with a personal touch that will make any patient feel at home. Dr. Hong graduated from the New York University College of Dentistry, and he has completed over 300 hours of continuing education each year since.
If you have any questions about how to clean your Invisalign aligner, he can be reached at his website or by phone at (630) 789-1555.