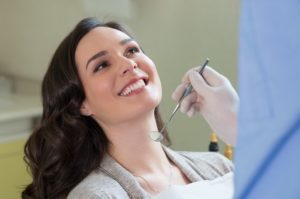 Brushing and flossing are important for keeping your teeth and gums healthy, but your home oral hygiene habits aren't the only care your smile needs. The American Dental Association recommends a cleaning and checkup every 6 months to keep preventable issues at bay, like tooth decay and gum disease. While you're at the dentist, it's a great time to ask 5 important questions to promote your mental health.
1. How's My Overall Dental Health?
A routine appointment allows your dental hygienist to remove any plaque or tartar buildup that can inflame or infect your gums. It also lessens your risk of cavities. Your dentist will perform a visual examination and may review digital X-rays to have a complete picture of your oral health. If they find anything concerning, they will discuss it with you and advise you on what to do next. With your oral and general health closely connected, a healthy smile is important for your overall wellness.
2. Are My Gums Healthy?
Cavities aren't the only threat to your dental health. According to the Centers for Disease Control and Prevention, 50% of adults have gum disease, which is a leading cause of tooth loss. Not to mention, it is connected to many health issues, like cardiovascular disease, Alzheimer's disease, and respiratory infections. Your dentist will check your gum health to ensure there aren't any signs of infection, like inflammation or redness.
3. What Dental Products Should I Be Using?
Your home dental products are your first line of defense against cavities and gum disease. The American Dental Association recommends using a soft-bristled toothbrush and a non-abrasive fluoride toothpaste to clean your teeth twice daily. Besides brushing, use high-quality floss to clean between each tooth. It doesn't hurt to add a daily mouthwash to your routine.
4. Do I Need Fluoride Treatment?
Fluoride treatments aren't just for children. The mineral is known as "nature's cavity fighter" and can help people of all ages. If you've experienced enamel loss from years of wear and tear, or you're dealing with tooth sensitivity, you can benefit from fluoride varnish. Your dentist will learn more about your concerns to determine if you need the added layer of protection.
5. How Can I Get My Teeth Whiter?
Teeth come in all shades and tones, and they change color over time. No amount of brushing will reverse tooth discoloration. If you're concerned about stains, your dentist will explain how you can reveal a brighter smile, like using a professional whitening system. Your teeth can get up to 8 shades brighter with results that can last for many months or years with the right aftercare, like brushing and flossing.
Don't hesitate to ask your dental team any questions that you have to make the best decision for your oral health.
About Dr. Jason Hong
Dr. Hong achieved his dental degree at the New York University College of Dentistry and has regularly continued his education in many specialties, like Invisalign, dental implants, and orthodontics. He focuses on prevention to create healthy smiles that last. If you need a cleaning and checkup, request an appointment through our website or call (630) 789-1555.